How the World Should Be: Jews, Social Justice, and GLIDE
After a year working in GLIDE's Center for Social Justice, the question I get most frequently is, "What does being a Rabbi at GLIDE mean?"
It is a fair question. GLIDE is many things — a church, a foundation, and a vision of the world as a radically inclusive, just, and loving community. But where in there does a Rabbi fit? Where in there does a Jew, or an atheist, or a Muslim fit?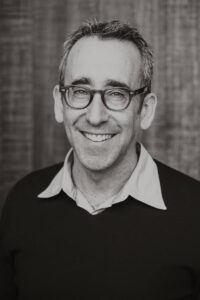 The answer is everywhere. That's what makes GLIDE the force for good that it is. It's a powerful universal place for and about humanity, where we're all mobilized to alleviate suffering and to break the cycles of poverty and marginalization.
But let me back up to tell you more of who I am, what I'm doing, and — more importantly — what you can do.
Three years ago, while I was working as a Rabbi at San Rafael's Congregation Rodef Sholom, I happened to take the ferry into San Francisco from Larkspur. I was reading Michelle Alexander's The New Jim Crow, about the mass incarceration of African Americans, and looked up to see San Quentin State Prison in front of me. Motivated to learn more, I began visiting inmates at San Quentin, a place whose racial makeup is the inverse of the region surrounding it.
That visit to San Quentin didn't begin my work in social justice, but it did give it new focus. Along with Rodef Sholom congregants, I began monthly visits to the prison's Jewish community. We'd sing together. We'd share holidays. And we would share some of the most potent conversations about regrets and repentance that I've had. Every spring, my group of leaders still holds a Passover seder for inmates at San Quentin, bringing together 150 incarcerated men so we can study and reflect upon a story of slavery together.
Through this work, I connected with Stephanie Rapp, Senior Program Officer, Jewish Life, at the Walter & Elise Haas Fund. Stephanie took me on a social justice tour of San Francisco, which included a visit to GLIDE. For years, and in various ways, the San Francisco Jewish community had been trying to build a center for Jewish social justice work that could complement GLIDE. Stephanie, always looking for the unseen answer, suggested that instead of creating a GLIDE for Jews, we should bring the Jews to GLIDE.
Jews had always made up from 10-15% of the people who volunteered at, or expressed themselves spiritually through, or otherwise found their home at GLIDE. With a Rabbi embedded at GLIDE and offering a clear welcome to people of all faiths or none, that percentage could increase.
More people could be doing more good through GLIDE. We could force-multiply the work of GLIDE's social justice machinery.
The Walter & Elise Haas Fund joined with other funders to create a position for a Rabbi at GLIDE's Social Justice Center, and I was offered the job.
I started as a student, learning what GLIDE was, person by person. I sat down with everyone I could — those who worked there, who volunteered, who prayed, and who benefitted from the food, job training, case management and other services GLIDE offers. I wanted to know what role I could play and what new pathways I could help create to foment justice work in the city and beyond.
Soon after, I took on two projects. The first was to create programs around our city's diminishing number of African-Americans — who used to make up 16% of the population, but who now account for only 3-4%. The second was to run trainings for law enforcement personnel such as police chiefs, police officers, and district attorneys. In these, we bring around 25 attendees to GLIDE for three-day compassion camps designed to help participants recognize everyone's humanity in the course of their work. We also led a justice pilgrimage for 85 people, bringing them to The National Memorial for Peace and Justice and The Legacy Museum: From Enslavement to Mass Incarceration in Alabama.
What does this have to do with Jews, or being a Rabbi? The answer to that question is: you.
We need to build reliable systems that are not just Band-Aids to problems on the ground. It's up to us to build restorative systems that break cycles of poverty. The "us" in that sentence includes you, whether you're Jewish or not, Christian or not. If you agree with what I'm saying, I'm talking to you.
I'm at GLIDE to help Jews and others feel welcome and encouraged to throw their shoulders into the radical love we're spreading.
Social justice work is not the responsibility of one religion, or even just of those who are religious. GLIDE is here for everyone. If you want a hot meal, to help those in need, to connect spiritually or emotionally, or even just to know more: we are here.
Every day, we serve three meals. Every day, we rely on 85 volunteers. Every day, we're projecting our vision of how the world should be. Every day, you can be part of that vision.
If you want to get involved, please, join me on most any Friday morning, from 9:00 am to noon, to help bake challah for the guests and staff at GLIDE. Just show up at 330 Ellis St. and ask the front desk staff where you can find the challah team.
And we need people at all times, every day of the week, too. Sign up to help serve meals when you can. You'll get an orientation, an apron, and gloves, and then serve food, or pour coffee, or greet people who are ready to see a friendly face.
People ask me why I'm a Rabbi at GLIDE and want to know what brought me to this very holy place. You've read the answer to that here and I think you'll agree the reasons aren't that surprising. A more interesting question, I'd suggest, is what's happening with you?
What will bring you to GLIDE? If I can help you find your way here, my door is always open. My office isn't huge, but there's room here for everyone.